"This post is sponsored by Sivan Social. All comments and opinions are my own.
How to get rid of dry skin quickly
If you're like me and you have really dry skin it's frustrating to try to get it sorted out. Dry, itchy skin is the worst and it makes you a bit crazy…or well it does me. I found a few ways that really help get rid of your dry skin if you do it consistently and at regular intervals. First of all you need to hydrate with water daily. I mean a lot of water. Not just a glass. If you're dehydrated that makes hydrating your skin that much harder. So make sure you increase your daily water intake. I even have water trackers for that here. That really takes the guess work out of knowing how much water you drank that day. So grab a bottle and fill it up with good cold water and increase your water for your body. It's so good for dry skin. You will be really surprised at how fast it can turn your dry skin around if this is an issue for you.
The second thing you can do is use a lotion both morning and night. I swear by Baby Magic lotion even though I am no longer a baby! I love the way it smells and that it is free of parabens, phthalates, sulfates, and even dyes! That makes it a win in my book. So get your routine in gear and make sure you use it consistently at least twice a day. It's definitely best to use it right before bed so it soaks in while you sleep. Also first thing when you get up after you wash your face. You will get the dry skin flakes off with the wash cloth and enjoy the fresh lotion feeling on your face!
Our house has loved the Baby Magic Lotion since I had very small children. They are all teens now and my teen daughter is still such a fan that I buy it for her to use now. She loves it and it sits on her vanity so she can use it daily. She likes the yellow Baby Magic and I like the pink! But she's already stolen mine today. Here's a few reasons why we have loved it for so long.
The smell…man the smell is so iconic and as a parent I still love that smell.
Baby Magic has been loved by parents in the know for over 65 years.
Baby Magic nourishes baby's skin with wholesome ingredients.
Dermatologist recommended for a baby's delicate skin.
And last we love it because it's free of parabens, phthalates, sulfates & dyes.
All these reasons are what makes me happy my daughter is still using it on her sensitive skin even today. I have a great coupon for you to grab so you can save on Baby Magic too! You can grab it here! You can also get a coupon in your Valpak mailer. Select households will receive an additional $1 off Baby Magic coupon from Valpak, so make sure you open your Valpak envelope to see if you received one.

Find the reason you have dry skin
The third reason is to not shower/bathe as much. I'm not saying do not be clean. You can get clean without putting yourself in a vat of water though. Once I stopped the showering every day thing I saw my skin begin to clear up almost instantly. When you have dry skin there is almost always a reason. If you can find the reason you have dry skin then you are ahead of the game and that much closer to clearing up your dry skin.
When you find the reason you have dry skin you can work on hydrating your skin and ending your dry skin woes.
There's only one way to find the reason you have dry skin do a trial of using each of my tips. Once you have narrowed it down to the one that seems to be making the most difference just remember to continue it. It may be one reason or it may be all the reasons. I have the worst dry skin. But once I started using these tips it is so much better. If you were to see me on the street you can no longer tell by looking at my face that I have dry skin. And that's impressive because I'm in the pool every single day right now. Woohoo. Thank you to Baby Magic. What a difference it has made in my elbows, knees, and hands.
Did you know that we're also doing a fun giveaway for you? Check it out below and go ahead and enter to win! I mean who can't use $100 right now?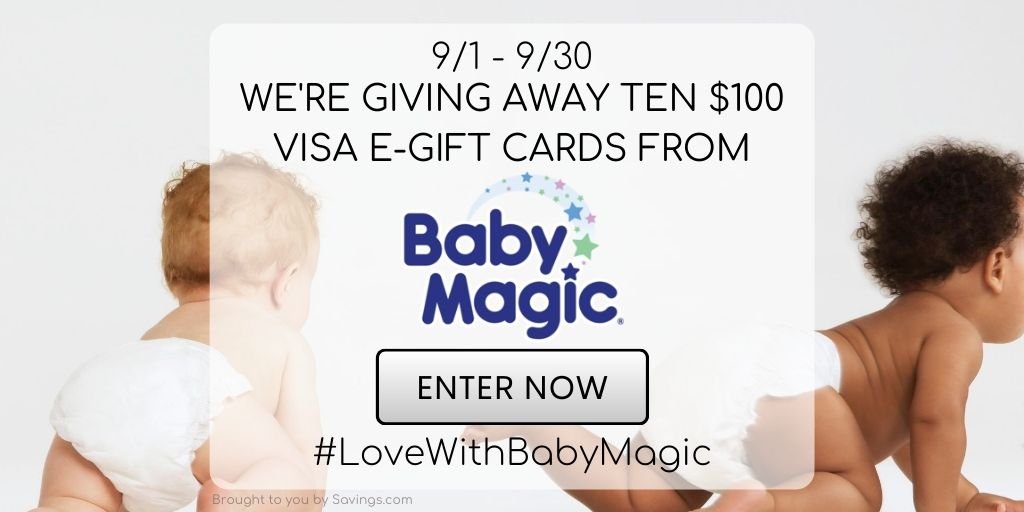 Tuesday, September 1st at 12:00 AM PT to Wednesday, September 30th at 11:59 PM PT.
Ten (10) winners will receive a $100 Visa e-gift card.
Users enter the giveaway by heading to the Grocery page on Savings.com and submitting their email address on the form on the page.
The winners will be chosen through a lottery drawing and notified on Thursday, October 1st via the email address they used to enter.
See complete Official Rules for entry instructions, full prize descriptions, restrictions and other important details.
Make sure you follow us on our Facebook page, instagram and twitter to find out all the diy's, crafts and recipes we share! Before you go check out my 2 ingredient hair mask to keep your hair in tip top shape. See my charcoal face mask diy here! And last but not least make your own melt and pour vanilla oatmeal soap, it's one of my most popular posts!