Incredibles 2 is now out on DVD and will be out on Blu-Ray on November 6. Check out my review of the dvd and the paper foldable craft activity too is here too!
Incredibles 2 DVD Review and Paper folding activity craft
The bonus extras on this dvd is amazing. They have 10 deleted scenes which are ideas straight from the cutting room floor. A collection of mini-docs about the Incredible characters of the Incredibles 2. There's a fun music video about the Making of the Incredibles 2. You can even explore director Brad Bird's early career and his big personality. There's even super stuff where you can see what it takes to design and build an incredible world. Find out how they made the incredible short Bao. See the new mini movie called Auntie Edna too.
This dvd is packed with tons of bonus extras that you will not want to miss. Just checking out the deleted scenes and why the cut them is worth it. I learned that they interviewed the kids by the cops and Dicker and they cut that because they felt it was a bit redundant after the parents were interviewed. That makes sense. I love when they share why they are doing what they are doing. There's so many extras on this dvd that you are going to want to own this. You can grab the Incredibles 2 here.
Now check these great Incredibles 2 trailers and more!
Edna's fashion show trailer
Edna Designing Fabulous!
Incredibles 2 Show me Your Powers trailer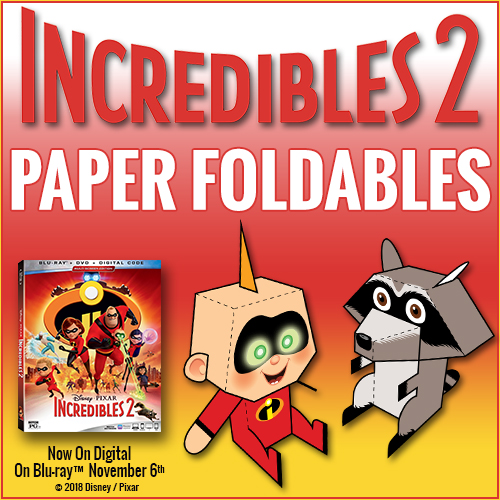 Just click the link below and click print to print out this fun paper foldable activity.
Before you go check out my free printables for Incredibles 2. Then head over and see my Mickey Mouse Incredibles cookies recipe. Don't forget to like me on facebook. Then follow me on twitter and instagram for more fun over there.